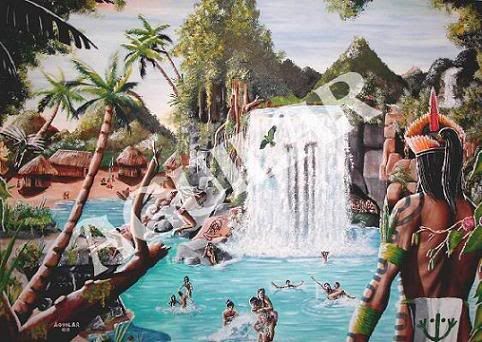 OH YES HE DID ON A WARM AND SUNNY DAY,
THE DEVIL WORE RED AND WHITE AND A SMIDGEN OF GREY.
HE FLEW ACROSS THE OCEAN, SEARCHING FOR HIS PRIZE,
INSTEAD HE SAW A COUPLE OF ISLANDS WE CALLED PARADISE.
THIS WAS'NT A VISIT OF CURIOUSITY OR JUST A MOMENT OF PMSing,
NO! NO! NO! THIS WAS A CALCULATED DESIGNED EVENT, ALL OF HIS OWN MAKING.
HE ARRIVED WITH DISCIPLES AND LADIES OF THREE,
AND MET ALL THE PEOPLE THAT LIVED TO BE FREE.
WITH A SILVER FORKED TONGUE,
AND BREATH FROM HIS LUNG.
YOU WOULD THINK HE WAS AT A POETS CONVENTION,
SPITTING THE SPOKEN WORD, AS IF IT WERE HIS OWN INVENTION.
THIS TIME IT WAS'NT THE SNAKE IN THE GARDEN AND APPLE IN HAND,
THIS WAS THE TOTAL DESTRUCTION OF A PEOPLE, A CULTURE, A CLAN.
HE SWEPT THROUGH WITH TAIL OF IRON AND STEEL,
HAD HIS WAY WITH YOUR GREAT, GREAT, GREAT ,GREAT, GREAT GRANDMOTHER. NOW HOW DO YOU FEEL.
HE SPREAD HIS VICIOUS VIRUS AND KILLED YOUR BROTHERS AND SISTERS,
AS FAR AS HE WAS CONCERNED, THERE'D BE NOONE WHO MISSED US,
THEN LEFT THEM TO THEIR DEAD AND LEFT THEM TO THEIR DYING,
THERE WAS ONLY ONE SOUND TO BE HEARD, THE ECHOES OF THEIR CRYING.
THE DEMON RETURNED THREE ADDITIONAL TIMES TO MAKE SURE HE HAD WIPED US OUT,
IN CASE SOMEONE HAD ANY DOUBT.
BUT WHAT HE DIDN'T KNOW IS THAT WE SURVIVED,
TO TELL THE TRUTH AND THAT WE WERE STILL ALIVE.
ALIVE WITHIN YOU, YOU, AND YOU,
WE HAVE LONG PAST THE TIME OF CRYING,
WE HAVE A VOICE AND WE ARE SCREAMING.
DO YOU HEAR THE SCREAMING? I HEAR THE SCREAMING,
I HEAR THE SCREAMING WHEN MY NITIOU AND NATIAO SISTERS AND BROTHERS SPEAK,
I HEAR THE SCREAMING WHEN OUR KACIQUES, BEHIQUES, AND ELDERS SPEAK
I HEAR THE SCREAMING WHEN DEFINITION, G-POSITIVE, AND REINA SPEAK. (POETS)
I HEAR THE SCREAMING WHEN BLAZE-A-PAGE, TAINA, AND DR. LOCO, SPEAK. (POETS)
OR MARIPOSA, LA BURJA, PRISONERA, OR EL GRITO DE POETA SPEAK. (POETS)
LISTEN DEVIL, YOU CAN'T CHANGE YOUR COLOR, OR YOUR FOUL SMELL,
WE WILL ALWAYS CURSE YOUR SPIRIT AND SOUL, STRAIGHT TO HELL.
YOU CAN CHANGE YOUR NAME FROM ONE TO ANOTHER,
BUT YOU WILL ALWAYS BE TO US, A MURDERING MOTHER.
IF YOU HAVE BEEN WONDERING WHAT WAS THE DEVILS OTHER NAME.
DON'T GET IT TWISTED
IT WAS CHRISTOPHER COLUMBUS
THE ONE AND THE SAME
AGUILAR OF "TAINO SPIRIT"
COPYRIGHT 2008