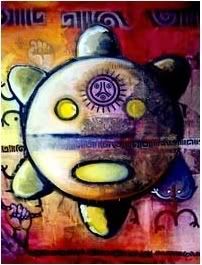 The Taino Ancestral Spirit flows through all Tainos, "La sangre llama" Its in every Taino who inquires about there familys, in every Taino who wants to connect with there people. The Ancestral Spirit will not be denied, it finds a way to bring us back home.
The Ancestral Spirit can root itself anywhere. In our out of our Homelands. It found a home in a place blosoming with multicultural activity. A place called New York City.
All of us owe a eternal debt of gratitude directly or indirectly to the Cacibajagua of all Taino Groups The Assosacion Indigena Taina. Many of us were walking around identifying as Tainos as told to us from our familys but the Assosacion was the first place that Tainos from the diaspora could call their home (Bohio) and expouse their Tainoness.
A place where Tainos could brainstorm, cultivate friendships and be one with each other. They would meet at La Casa de la Herencia Puertorriquena and the Lower East Side. The Ancestral Spirit does not disappear when groups break up. The Assosacion gave birth to many Taino yucayekes that still exist today. Their story should be told so that the people will know. I was not there to witness the goings on so for the time being I leave that for those who were there.
The Ancestral Spirit will always be there for Tainos no matter what happens to this resurgance. It flows everywhere we go. It is there for all Tainos who are geographically isolated. It is there for all the Tainos that are at sleep. It awaits and is there to reawaken all who call for it.
nabori daca Taino
Caracoli